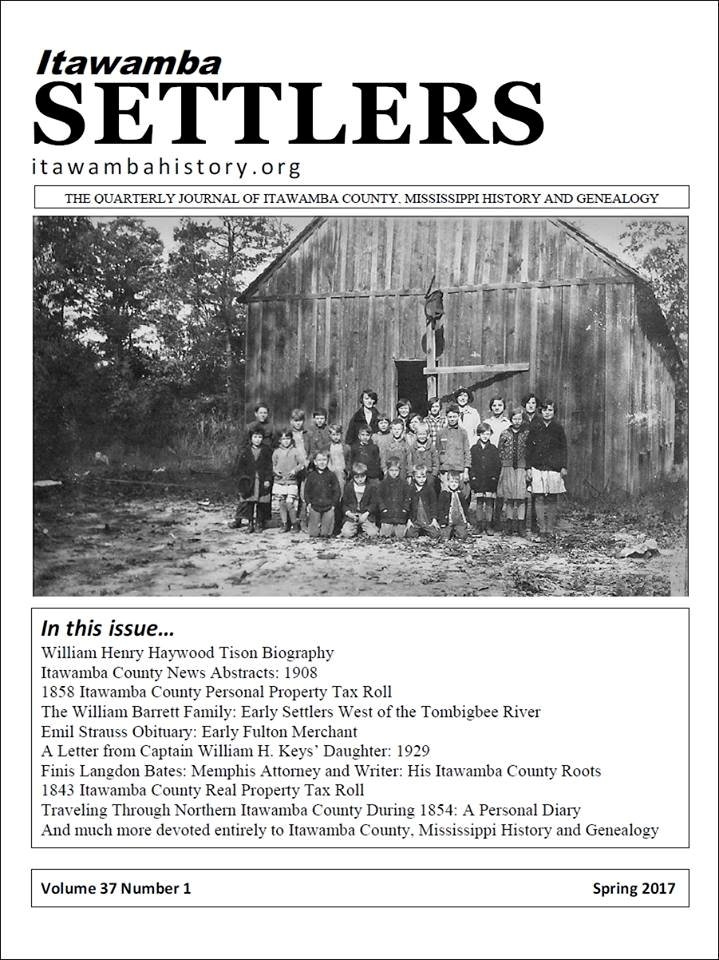 SPRING 2017 ISSUE AVAILABLE MARCH 2017
William Henry Haywood Tison
Itawamba County News Abstracts: 1908
1858 Itawamba County Personal Property Tax Roll
The William Barrett Family
Emil Strauss Obituary: 1929
A History of Smithville Written in 1929
The Kentucky Alabama Land Company
A Letter from Capt. Wm. H. Keys' Daughter
Finis Langdon Bates: Memphis Attorney and Writer
Arthusa Parneshia Evans
The Robert Wren Family
The Walker Plantation
Prof. Greene Sheffield and Wife Thessel Little
1843 Land Owners of Itawamba County
Tax Levy for County Jail: 1848
Traveling Through Northern Itawamba County: 1858
Bicycling on a Dirt Road
Fulton Road Workers: 1848
Murder of Mordecia Clifton
1924 Fulton News Items
Palmer Obituaries
Jack Ford Killed
Sarah Ann Gilmore Friday Obituary
Susan Shields Stephens Obituary
Dr. W.P. Weaver Obituary
Mantachie Scene from the 1920s
And much much more devoted to Itawamba County, Mississippi History and Genealogy!