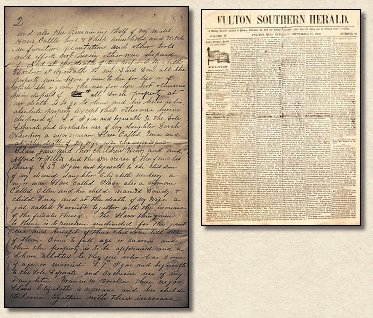 The Itawamba Historical Society is publishing various archival information online. This information includes abstracts of early Itawamba County records, digital images of source documents, archival photographs and maps, county histories and other valuable research information. Be sure to visit the Itawamba Historical Society's Online Archives contents page for a listing of what is available online. Visitors may also wish to search the online archives directly from this page below.

The society has plans to continue publishing Itawamba County research files online. Be sure to visit often to see what has been added to the site. The society also invites visitors to submit old Itawamba County documents to be included in this online archives. Such items as old family photographs, Bible records, old family letters, store ledgers and such is solicited. To submit material for publication, visit the Contact Us page on this site.
SEARCH THE ONLINE ARCHIVES

BROWSE THE ONLINE ARCHIVES
Be Sure to visit the Online Archives as there are many offsite Itawamba County Research Links published for the Itawamba County researcher in addition to the onsite research files. The research file selected below will open in a new browser window.



Return to Index